20 people boats and above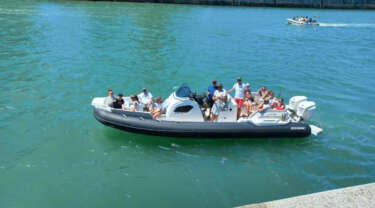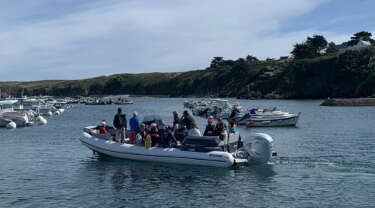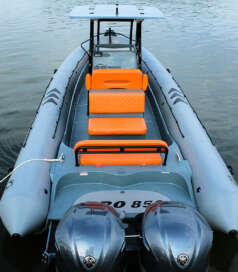 The 20-seater RIB is ideal for collective use when doing activities at sea (diving, etc.) as well as for exploring the world with several people, families or friends. It is also ideal if you are looking for a boat with enough space on board for relaxing. Versatile, efficient and sturdy, the characteristics of the 20-seater boat, with a length of over 8 metres, promise unforgettable moments on the water that must be shared!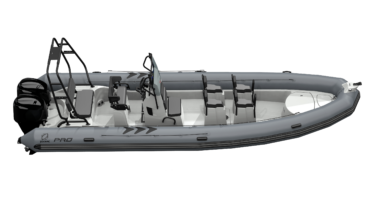 PRO 850
The largest in the range at 8.50 m
You can carry up to 25 people on board this Pro 850. It can be twin-engined with 2 x 250 HP.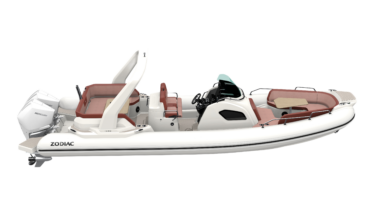 MEDLINE 9
The flagship
The largest of the Medline range with its sleeping cabin, this is the ultimate day boat. It has 2 large relaxation areas, a large U-lounge at the back with a table and another at the front in a circular design with another table.
Because of its large capacity of 20 people, the pleasure boat is recommended for day trips with groups. You can embark on a relaxing sea trip on a model from the Medline range: the Medline 9. An iconic pleasure boat, it offers enough comfort on board to fully appreciate the experience, without stepping on each other's toes. Enthusiasts, professionals and experienced amateurs will find all the space they need to store their equipment and do their activities easily in the Pro range outboard boat, as well as the power needed to reach the right cruising speed depending on the activity, such as fishing, diving, water sports and many more.
In addition to its versatility, the RIB is highly regarded for its rigid hull, which offers stability and robustness when sailing, even when faced with waves when the weather becomes more inclement and rough.
With its foldable inflatable tube, it is very practical to store and transport to the water wherever you want.
On deck, it is up to you to personalise and adapt the space according to your wishes and needs: seats with backrest, Bimini top, sun deck… The 20-seater boat is a large boat that is particularly comfortable, both for the pilot and for the passengers.