Luxury and unsinkable RIB boats
125 YEARS OF AIR AND WATER
Zodiac Nautic has its origins in the 'Société française de ballons dirigeables et d'aviation Zodiac', a specialist in the production of airships. One of its engineers, Pierre Debroutelle, invented the first inflatable boat prototypes in the 1930s for the Aéronavale (French Naval Air Force), which was looking for easy and innovative solutions for military transport.
This move from the air to the sea would make Zodiac world famous. In the 1960s, the company moved into the leisure industry in response to the boating craze among holidaymakers. With its unrivalled experience, Zodiac Nautic, the pioneer of major innovations in the field of inflatable boats, is today at the forefront in terms of products and services, fully in tune with the times.
"Mastering air and water through a resolutely innovative approach has been Zodiac's vocation since its creation in 1896."
Know-how
125 years of experience and inventor of the inflatable boat, Zodiac Nautic offers products with exceptional durability and reliability thanks to materials and manufacturing processes that are always at the cutting edge of technology.
THE HULL
Its rot-proof polyester internal structure, made up of a grid of longerons and stringers, ensures a one-piece connection between the hull and the deck. This method provides an overall rigidity that is conducive to performance and resistant to all impacts experienced while sailing, under all load conditions.
THE TUBE
Zodiac Nautic has developed a unique industrial process for assembling its tubes: thermo-banding. This process consists of welding the pieces of Strongan fabric together to provide a perfect seal and a durable, almost indestructible quality of assembly, which is superior to the fabric's own strength. Zodiac Nautic is the only manufacturer to have mastered the welding of all the structural elements of an inflatable boat, guaranteeing exceptional longevity and safety.
REMOVABLE TUBE: A CONCEPT BY ZODIAC
Available on most of our models, the tube is equipped with a bolt rope that slots into a groove in the hull. Sealing is ensured by pressurising the tube. Fully removable, the tube can be dismantled and folded for easy maintenance, repair, transport and storage.
CHANGING THE TUBE?
Nothing could be simpler; the tubes can be replaced independently of the hulls, ideal for renovating or giving your boat a new look at low cost.
QUALITY TEST
Zodiac Nautic carefully selects the materials that are used to build its boats according to a strict set of specifications that guarantee an exceptional standard of quality. Zodiac Nautic is probably the only manufacturer to put its new boats through a rigorous series of sailing tests in extreme conditions. Rest assured, your Zodiac boat will accompany you everywhere and for a long time.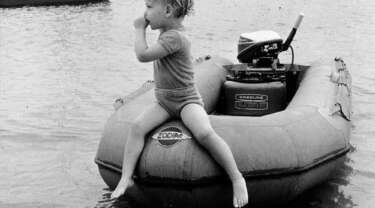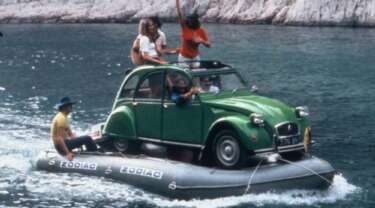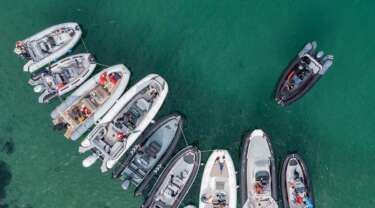 The RIB concept
TRUE 4×4 OF THE SEAS
True ocean adventurers, they are extremely popular with professionals and boaters who appreciate their exceptional marine qualities and practicality at all times.
MORE SEAWORTHY
The unique combination of a very low centre of gravity, a deep V hull and a stabilising/shock-absorbing tube gives the RIBs speed and crossing capabilities in rough seas with unprecedented comfort and safety. To try it is to discover a new level of performance. Anglers and experienced pilots are not mistaken; its devoted users could not do without it.
MORE CAPACITY
You've counted correctly! There are 12 footballers on board this Zodiac boat, and there could have been more – or heavier ones! The Zodiac boat has an exceptional weight/surface area ratio, providing such buoyancy that it can carry considerable loads: ideal for day trips with large numbers of friends or family and in complete safety! The buoyancy distributed around the periphery, combined with a very low centre of gravity, ensures a level of stability that makes Zodiac boats almost impossible to capsize when loaded! The tubes of a Zodiac boat have several compartments separated by watertight partitions. Thanks to its large air supply, the boat retains its buoyancy and remains conceptually unsinkable when fully loaded, even with a deflated compartment.
MORE PRACTICAL
It's so easy to put it in the water or pull it onto the beach! The low weight of Zodiac boats allows a passenger vehicle to be launched easily. Without a berth, RIBs are as economical as they are practical. The tubes are permanent fenders and naturally act as shock absorbers. When manoeuvring in the harbour, if it comes into contact with the boat alongside or the quay at low speed, it will bounce off the obstruction without causing any damage.