26 ft boats and above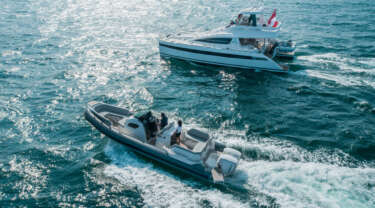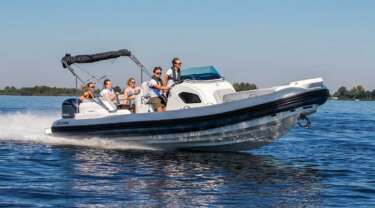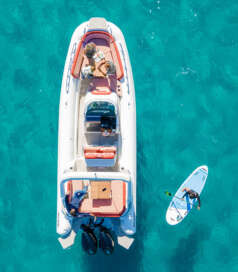 The 30 feet boat, which is very large, allows you to sail on the sea for cruising or water sports with family or friends. With a capacity of 20 to 25 people and a length of 30 feet and above, the RIB offers enough space on board to explore the seas of the world with several people and for collective use as part of an activity. Comfort, sturdiness and power characterise the 30 feet recreational RIB.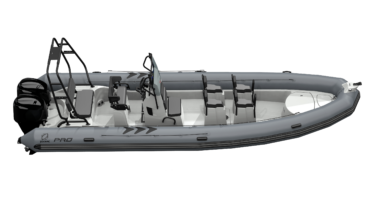 PRO 850
The largest in the range at 8.50 m
You can carry up to 25 people on board this Pro 850. It can be twin-engined with 2 x 250 HP.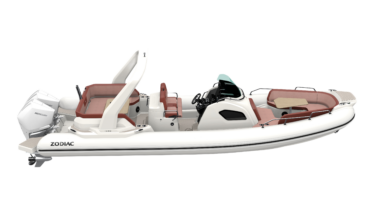 MEDLINE 9
The flagship
The largest of the Medline range with its sleeping cabin, this is the ultimate day boat. It has 2 large relaxation areas, a large U-lounge at the back with a table and another at the front in a circular design with another table.
The 30 feet RIB has a rigid hull that offers enough stability on board for easy navigation and for water sports activities, such as diving and fishing. With an outboard model from the Pro range, you'll enjoy unique performance and space optimised for professional use or for the more experienced sailor. The ability to cope with adverse weather conditions is also important on the RIB, ensuring that you are safe even when the weather changes suddenly and the sea is rougher.
The foldable inflatable tube of the RIB is very popular as it enables easy storage and transportation of the boat so you can embark on adventures anywhere you want. On board, the deck space can be customised for your comfort. You can select the accessories and equipment of your choice: storage locker, sun deck, seats… The Medline 9, the iconic pleasure boat of the Medline range, is ideal for trips out to sea to enjoy the sun and the best swimming spots.
The large capacity of these boats of 30 feet and above allows you to take to the sea with big groups of people, such as families with children or friends. The versatility and power of the boat means that it can be used for both leisure and water sports activities at the ideal cruising speed.