Diving boats and RIBs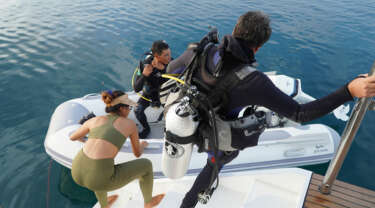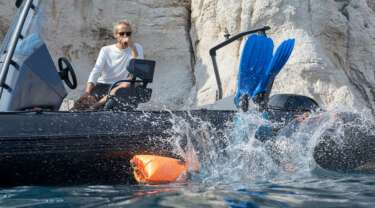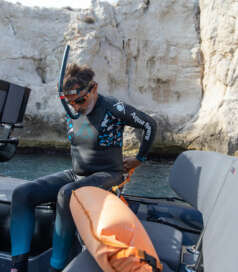 The RIB for diving
Get on board your diving boat and go exploring the seabed. The RIB offers all the stability and space needed to meet the expectations of divers for their sea trips or camping on islands. Enjoy your favourite leisure activity in complete safety thanks to a boat adapted for scuba diving, snorkelling or underwater hunting.
Your boat for diving or underwater hunting must meet certain specifications to ensure the safety of passengers and equipment and to make trips more comfortable. An outboard boat is ideal for both beginners and experienced divers because it is practical, light and stable. RIBs are particularly popular for water sports because they can be customised and accessorised (ladder, seat, console, storage, etc.) to suit their application. The size of the boat will depend on how many people will be on board, where you will be sailing and how much space you have for storage on the boat.
Stability and strength
The boat must be sufficiently strong and robust to allow collective water sport use. The stability of the RIB is perfect for divers who need to be able to balance themselves on the boat and turn around when diving. The RIB for underwater hunting or diving supports the weight of the technical equipment as well as the passengers. Compared to open hull boats or inflatables, the RIB, with its rigid hull and inflatable tube, offers greater balance on the water.
Practicality and comfort
The shape of the boat as well as its layout must be practical for the activity, without neglecting the comfort of the divers. With an RIB for diving, you benefit from a large loading and boarding capacity to accommodate passengers and all equipment in complete safety. As specific diving equipment is relatively heavy and cumbersome, it requires space and structural strength. In addition, the divers also need space on the pleasure boat to equip themselves from head to toe (wetsuit, tank, etc.) and for the groups to dive into the water. A sufficiently large underwater hunting or dive boat front section with a platform deck will allow the storage of equipment as well as an anchor locker with anchor, chain and rope, leaving enough room and comfort for the divers. The length of the boat should be chosen according to the number of passengers.
Powerful and lightweight
The RIB's engine offers the power needed for safe sailing, even in difficult conditions. At sea, weather conditions can change very quickly. The boats are designed so that they can handle the wind and the hull can easily pass through the waves, even when heavily loaded. You can choose between different engines depending on the power you are looking for. Choose a light and easily transportable boat model to go diving wherever you want and manoeuvre with ease.