Relaunched in 2016 with the takeover of Zodiac, Mercury represents the strongest of our partners. We work together on a global scale, which is why Mercury enables us to sell the most boats.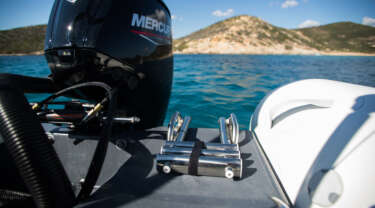 It's interesting to work with them because they are very present in terms of their communications. We're looking to develop a certain "give and take" that enables us to support each other alongside our customers and their customers. Mercury is a source of innovation, and they support us financially so that we can represent them on our boats, and so that they can represent us with their engines.
The majority of our boats are sold with a Mercury engine, pre-rigged on our premises to ensure that the RIB is complete, reliable and more economical to sell.
In fact, when Evinrude came to an end, many of our customers who had been with Evinrude returned to the Mercury family, giving us greater visibility and expanding our customer portfolio.
In France, Mercury sold 5,589 engines in 2022, compared with 4,982 in 2021. An increase of 14%.
Their market share also increased by 29% between 2021 and 2022, from 17451 to 20005 engines sold. This collaboration is just the beginning of a long partnership, and we're delighted!