Zodiac's dream of accompanying THE non-stop, non-assisted solo race is now a reality!
We are both honored and touched by the trust placed in us by the various organizations in charge of these events. A pioneer and world leader in RIBs, with over 120 years of history, we are first and foremost a company of engineers known for developing the most stable and resistant hulls possible, capable of ensuring all sea outings, whatever the conditions.
Zodiac and racing are above all a beautiful love story, with shared values: surpassing oneself, performance, daring and reliability…
"For us, above all, it's a way of sharing strong, unforgettable moments with a whole community of enthusiasts just like us", Fanny Revert-Ciavara underlines.
– emphasizes Fanny Revert-Ciavattini, Product Marketing Manager at Zodiac Nautic.
We will be providing 42 boats, designed, thought out and conceived specifically to ensure the safety and protection of skippers and organizers throughout 2024. 42 boats will subsequently be offered for sale in the following quantities:
– 3 units of Pro 850
– 5 units of Open 6.5
– 34 units of Pro 7
They will be available for delivery from mid-November 2024.
Come and see us at the event, and chat with us on the pontoons to find out more – the team is looking forward to it!
LONG LIVE TO THE VENDEE GLOBE and LONG LIVE ZODIAC!
We are delighted and proud to return to the Vendée Globe, aware of the history we have with this wonderful race. This return signals our desire to build a strong long-term partnership with this major race. The values held by the participants are aligned with those that we share with our teams: Audacity, Agility, Commitment.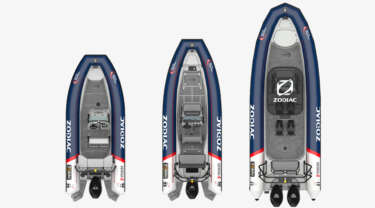 This cooperation therefore allows us both to strongly unite internally, but also to prove in situ the performance of our rigid inflatable boats. As a leader and reference in RIBS throughout the world, we are also very happy to be able to share this moment with all of our international partners. Our daily mission "Allowing everyone to experience unforgettable adventures on the water" which has driven us for 90 years, cannot be better expressed than through the Vendée Globe. François Fauroux, CEO of Zodiac Nautic.