Boats for 6 people and above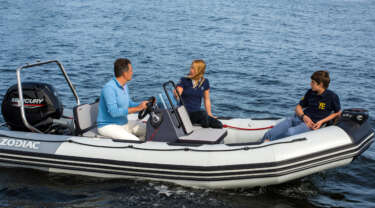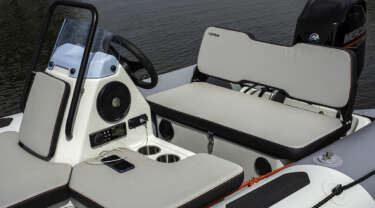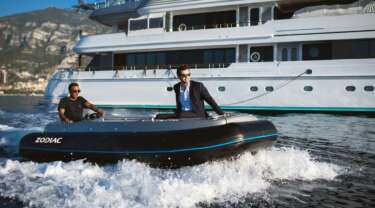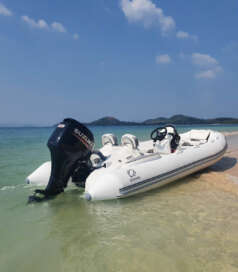 The 6-seater RIB is ideal as a boat or yacht dinghy, but also for day trips, lounging around or doing activities. With a length of 4 to 5 metres, the 6-seater boat is particularly practical and comfortable and has outstanding features for versatile use.
The 6-person outboard RIB combines practicality and robustness. With its rigid hull, it can easily cope with changing weather conditions at sea. This means that you are in safe hands on your boat, even in rough seas. The foldable inflatable tube allows you to store the boat easily. It is lightweight and easy to transport so you can sail it wherever you want, whether it's at sea or on a calmer stretch of water.
Easy to handle, the Cadet RIB ALU inflatable dinghy is perfect for reaching the coast and less accessible swimming areas. To complement your yacht, you can opt for a stylish and comfortable Yachtline RIB tender.
As a pleasure boat, the 6-seater RIB offers a perfect balance between performance and comfort. This iconic model from the Medline range is ideal for swimming and lounging in the sun. The customisable deck allows you to adapt it to your desires: sun deck, Bimini top… If you opt for an Open model, you can easily practise water sports such as water-skiing or wakeboarding for a fun and active experience. The more experienced who practise activities at sea, such as diving and fishing, in groups and for pleasure or for professional purposes, will appreciate the characteristics and optimisation of the Pro boats. Then choose the ideal engine for your activity according to the cruising speed you wish to reach.
The 100% electric eJet boat with its waterjet technology allows you to sail in an environmentally friendly way. It is characterised by its low noise and high performance.