THE CHARACTERISTICS OF PVC
Let's start with PVC, which is a derivative of petroleum products. It is initially a rigid PVC, which is softened with plasticisers, to make it usable for inflatable tubes.
2 Main advantages :
The main advantage of a PVC tube is its price: it is two of three times cheaper than hypalon or neoprene. This is because it can be assembled industrially in a factory.
Its second advantage derives from how it is assembled. PVC needs to be welded, whereas a hypalon fabric can only be assembled by gluing. Welding is a process that can be more reliable than gluing, since it is a fusion of material, whereas gluing consists of adding an adhesive, which has its limits in time. Once the fabrics are welded, they cannot separate.
There are different quality grades for PVC depending on the textile fibre material and the weave itself:
Firstly, how the PVC is woven: there are single or double thread weaves, the latter offers better resistance to tearing or puncturing.
Next is the weight of the fabric: this is generally called the decitex (dtx). There are generally 1100 and 1570 decitex available.
This does not mean that high quality PVC will necessarily be a 1500 decitex, it depends on the size and use of the boat; we will start with fabrics with a lower weight on small boats.
The larger the boat, the more exposed it will be to shocks and rougher docking, and the more resistant the fabric levels will need to be.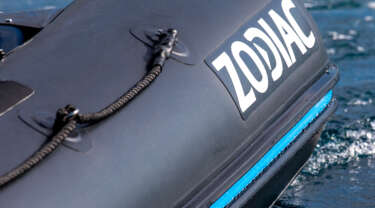 KEY POINTS OF PVC
Colours: the choice is limited to traditional colours – white, grey, red, black and blue.
The durability of PVC over time: Some people say that PVC is not suitable to a lot of exposure to the sun… this depends on the maintenance of the boat. PVC that is correctly maintained will last almost as long as a neoprene hypalon. PVC that is not properly cleaned and rinsed after each use will age more quickly and become a little sticky and tacky. This is the "sticky" effect, due to the plasticisers rising on the outside of the fabric. The most important thing is to get eliminate the plasticiser that comes out, and the only way to do that is to wash your boat with soap; typically, give your boat a good scrubbing with a sponge and soapy water 2/3 times a year. On a normal pleasure boat, where the boat will stay one or two months in port, exposed to the sun, the boat will not suffer from the sun. However, if the boat is to be left outside all year round, it is a good idea to protect it with protective coatings and to clean it regularly.
In terms of cost: PVC costs less than Neoprene.
THE CHARACTERISTICS OF HYPALON - NEOPRENE
Hypalon is a natural product, it is a fabric weft that is rubber coated.
The qualities of the hypalon vary according to 3 characteristics:  the dyes that are used, the thickness and weight of the coating, and lastly the weave.
The weave: there are single and double weaves. Double weave is the most resistant.
Next are the thickness and weight of the coating: the more the boats will be used for professional purposes, the thicker the coating should be.
Neoprene hypalon fabric cannot be produced industrially: it is still assembled by hand (sanding, gluing and manual assembly).
Its quality is its resistance over time, requiring less maintenance. Its drawback is that it is still subject to the quality of the work of the operator during its initial assembly…
KEY POINTS OF NEOPRENE - HYPALON
Colours: There is a wide range of colours for neoprene hypalon; there are also different coating qualities (imitation carbon, shark skin, etc.).
The durability of Neoprene: The same maintenance is required as for PVC; from time to time, clean your boat thoroughly with soap and rinse it. As hypalon is more resistant than PVC, it is sufficient to clean once or twice a year.
In terms of weight:  Hypalon is a little heavier, but this is minimal compared to the weight of the boat.
In terms of price: There can be big differences in price between two grades of hypalon, depending on the type of coating. A carbon type neoprene hypalon will be more expensive than a smooth hypalon. Overall, the price can vary by 50 to 60% between a basic hypalon and a top of the range hypalon.
HOW CAN YOU TELL PVC FROM NEOPRENE WHEN YOU SEE A TUBE?
To differentiate between the two, look at the assembled parts of your tube :
a welded assembly gives a brilliant appearance to the fabric assembled on PVC
parts glued to neoprene hypalon can sometimes "taper away" a little on the edges.
There is very little difference to the touch; depending on the grade, PVC fabric can be a little grainy, but a good quality PVC fabric can be very smooth too.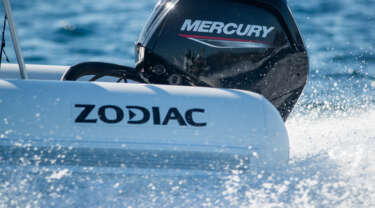 WHEN TO CHOOSE NEOPRENE OVER PVC
On rigid inflatable boats of less than 5.5m to 6m, it is generally advisable to use a PVC tube fabric, especially because of the cost. On RIBs of more than 6m, it is more debatable whether to use Neoprene-Hypalon.
If you go out all year round with your boat or if it is for professional use (sailing or diving club), it is preferable to choose a neoprene hypalon tube.
If, on the other hand, you use your boat for pleasure boating for 1 or 2 months a year and the boat is stored in a shed or garage in winter, PVC is a good solution.