We are proud to share the history of one of our partner companies essential to the creation of our boats. The Serge Ferrari group designs, develops and manufactures innovative composite fabrics for light architectural and outdoor applications. Serge Ferrari created his company in 1973 and went through many stages that gained him notoriety.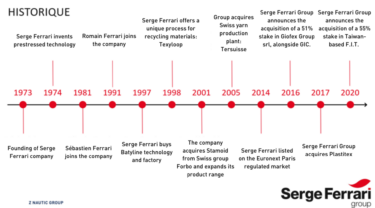 Théo Debeunne, Zodiac Product Manager for the Medline 5.8, explains the choice of Serge Ferrari materials for this brand new model:
"For us, the upholstery is the first visible element on the boat, so we attach particular importance to it, which is why we chose Serge Ferrari. We want our customers to be able to find the comfort they are used to at home. We particularly appreciate the Batyline fabric for its soft touch. Our biminis are also equipped with Soltis fabrics, which are perfectly suited for hot areas: they protect from the sun while allowing air to pass through to generate a breeze."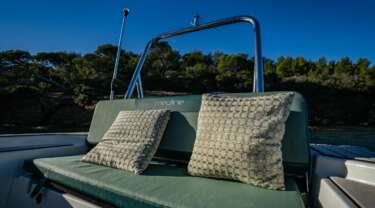 The group applies a CSR approach based on the human, the environment and sustainable innovation. In other words, more prosperity = 0 hour increase in non-value-added work, 0 kWh increase in non-renewable energy, and 0 Kg increase in virgin material consumed.
We use Serge Ferrari fabrics on our boats:
– Batyline Eden: With durable and UV resistant properties, it has an extreme exterior resistance to staining and water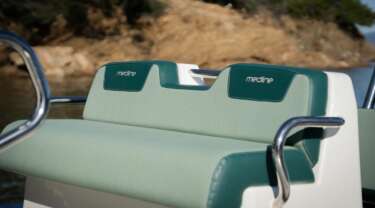 We are delighted to work with a partner who helps make our boats modern, comfortable, and above all, durable. The large selection of colors allows you to choose your upholstery according to you tastes and make your boat uniquely yours. What colors are you choosing for your boat?