Wakeboard boats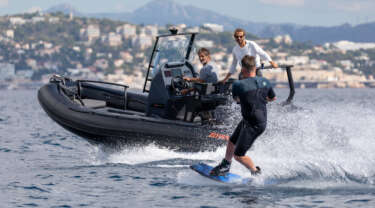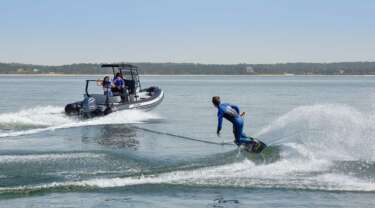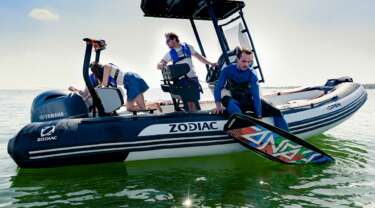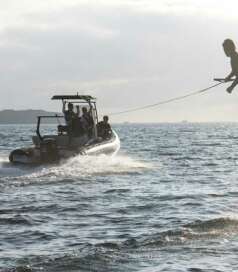 For the wakeboard
Get on board your wakeboard boat for an active outing at sea with friends or family. Do you like sailing, exploring, going on adventures and the thrill of water sports? Find your RIB for wakeboarding for fun and action-packed sessions! In order to choose the right boat for the activity, you will need to know on which body of water you will sail and how many people will be on board. Opt for a boat like an RIB that glides easily through the water to achieve a high level of speed perfect for having fun on a wakeboard.
The RIB for wakeboarding is ideal for both sea and calm water such as lakes. It's up to you to choose where you want to go to pursue your passion! Share a pleasant day on your pleasure boat, suitable for both cruising and water sports. Unlike the water-ski boat, which is recommended to be smaller, lighter and easier to handle, the wakeboard boat has to be bigger to generate more waves on which the rider can perform jumps and tricks. The RIB offers high performance, ease of sailing, safety and convenient storage and comfort thanks to its rigid hull and its inflatable tube, which can be dismantled and folded. The engine model chosen should be suitable for your activity.
Power and speed
Your outboard boat must have a powerful engine to reach an adequate speed to pull the rider by a rudder bar and a cable attached to the rigid hull of the boat, ideally between 20 and 30 km/h depending on the level of skill. It is this speed that will give the rider traction and help them emerge from the water to glide and experience the thrill. Our boats are compatible with 3 engine manufacturers to ensure you have a wide choice.
We subject our boats to a series of sailing tests to guarantee a high level of safety and a degree of innovation and quality that will meet your expectations when practising your favourite sport.
Ergonomics and seating capacity
For wakeboarding, we recommend opting for a larger boat that produces a pronounced wake, thus allowing more antics when performing jumps. With its deep V-shaped hull, your wakeboarding RIB breaks the wave to move forward and offers excellent seakeeping ability where the weather can change quickly, requiring stability to cope with the wind and waves.
The RIB is also very popular because of its large capacity, comfort and safety level, which makes it possible to go out with friends or family and even children. The large and optimised deck gives you the possibility to fit it out for the relevant activity with seating, a space to move around on board and a storage space with a locker for the wakeboarding equipment: boards, boots, wetsuits, rope, rudder… You will choose the capacity and length of the boat according to the number of passengers. You can also configure your boat as you wish by adding accessories: rear platform, sun deck, etc.