Zodiac x Kahe partnership
Our Zodiac tenders take on a new dimension with the KAHE POD 600 – the electric motor that changes everything!
Designed to meet your every need, our new Nomad models and Cadet tenders offer the perfect blend of lightweight design, high performance and durability. In our pursuit of excellence for more accessible, more fun, and more eco-friendly boating, we're delighted to announce that the KAHE POD 600 is now available on all Zodiac tenders.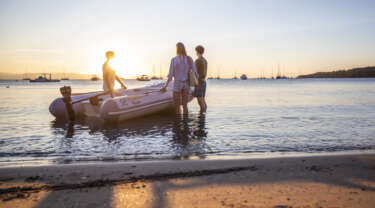 The Kahe start-up
KAHE, a French start-up based in Lacanau (near Bordeaux), has imagined, designed and industrialized a new, innovative 3-in-1 electric motor for boats. It's eco-friendly and will contribute to the energy transition on the water.
Dedicated to light craft, such as dinghies, small boats, fishing boats and small sailboats, it boasts 3 innovative and differentiating qualities:
1- it replaces a combustion engine on a small boat in 1 minute, offering :
0 hydrocarbon emissions into the water
0 air emissions
0 noise
0 odors
2- it's highly innovative because it's modular. 3 products in 1
The same motor can be transformed in 1 click :
from boat engine to watercraft propeller (stand-up paddle and canoes)
from boat motor to underwater scooter
from underwater scooter … to boat engine
3- it's virtuous. Allowing the transformation of an internal combustion engine into a gentler electric motor contributes to the decarbonization of the sector.
To bring this project to fruition, KAHE has opted for an innovative battery solution that is itself eco-responsible, in partnership with another French start-up, Gouach. The battery is solderless, removable, repairable and recyclable.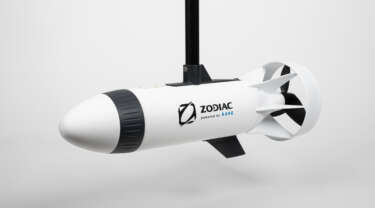 Kahe is also:
Selected to represent French Tech at CES in Las Vegas
Winner of the AFBE Electric Boats and Motors Innovation Award