Zodiac Cadet 310 Alu & Manta 2.0 Electric Outboard: The Perfect Eco Combination!
In May 2020, on Vesak day, the anniversary of Buddha's enlightenment, Singapore Based solar yacht company Azura Marine launched "Solar Eclipse", the first hull of their Aquanima Solar Electric Catamaran range in Bali, Indonesia.
The Aquanima 40 "Solar Eclipse" is the company's showcase vessel. With that launch, Azura Marine brought a new paradigm to the yachting world: An exploration yacht with unlimited range and continuous sailing capabilities solely powered by the sun. No carbon footprint or harmful emissions of any kind, no need for recharging stops, heavy gensets, sails or wind turbines, this cutting edge craft cruises day and night with the solar energy she harvests from morning to evening with her impressive 10,000 W solar roof and stores in her battery bank that serves also as ballast for increased stability. If energy self-reliance is completely new on a series production motor yacht, rendering re-fueling stops something of the past, abundance of water is equally important and used to often limit the range of expeditions in the absence of water maker onboard. The design of the Aquanima yachts addresses this limitation too and they produce their water autonomously from 3 sources: the 55m2 solar roof is equipped with a water drainage and filtration system which can fill the 550 liters fresh water tanks in a matter of minutes in the event of rain; the air conditioning condensate water is also recovered, a non-negligible by-product of up to 60 litres per day of "free water"; finally a new  generation low energy consumption water maker is also fitted onboard. With inexhaustible sources of energy and water, unseen storage volumes and no polluting emissions, the
Aquanima 40 solar electric catamaran is equipped like none other for unrestricted exploration of the remotest marine jewels, in complete harmony with the ocean.
This vessel however would not be complete without a trustworthy tender to take her crew to the beaches, shallow areas and dive sites. Solar Eclipse is equipped with an electrically powered Zodiac Cadet 310 Alu, perfectly fitting under the aft deck settee and launched/stowed in a few seconds from its carbon fibre davit.
Azura Marine CEO Julien Mélot comments "There was no double thinking when it came to choosing the ideal tender for the Aquanima 40, it was Zodiac or nothing." Despite the procurement and logistical difficulties (there is no official Zodiac dealer in Indonesia), the Cadet 310 Alu was ordered and received in Bali a few months later. Mélot adds "We needed a model that is elegant and would look seamless at the stern of the Aquanima 40. Due to the nature of its usage (expeditions, diving, etc.), the Zodiac had to be sturdy while not too heavy. We found the perfect model with the Cadet 310 Alu".
Logically, powering the Zodiac with a conventional gasoline outboard was out of question and Azura Marine developed specifically a new electric outboard to use on their tenders, the Manta 2.0, complementing the already existing Manta 1.0 and 3.0.
Manta 2.0 comes with a high efficiency 5 kW brushless DC motor, a propeller designed to absorb the great e-motor torque, a high flow air cooling system that keeps the electronics free of humidity and condensation and an application to monitor all parameters are change motor settings via BlueTooth. "All you need to do is press the ON button and off you go, no more fear of the engine not starting because of a dirty carburettor, a faulty spark plug or a starter handle that breaks away from its cord." says Mélot.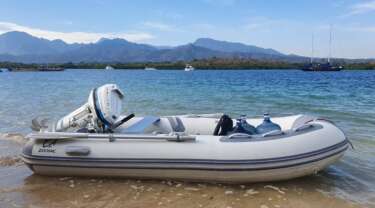 Coming from the same engineer brains and aligned with Azura Marine philosophy, the Manta 2.0 electric outboards share a lot of the mother vessel's DNA: they are zero-emission, extremely sturdy and durable with absolutely zero maintenance. Being air-cooled with the electric motor above water, the most common issue of other electric outboards which is water ingress in the submerged e-motor is eliminated.
On the Aquanima yachts, the Zodiac and its Manta outboard are effectively, although indirectly, solar powered. The in-house designed 48V Li-Ion battery pack comes with a fast 220V charger that can be plugged into the yacht, rendering the usage of the Zodiac not only free of charge but also 100% clean. "For Aquanima owners, the battery charge will almost always take place onboard as it is so convenient. We have installed a strong current electrical socket next to the davit to make the charging experience feel like a breeze" comments Julien. Obviously, the 2,5 kWh battery pack can as easily be charged using grid electricity and a marina or home power socket. It only weighs 18 kg, less than a tank full of gas and is easy to take home. This unique battery pack comes in a handy rugged and waterproof suitcase with a built in LCD screen, a blue tooth connection, a GPS chip and an application which appeals particularly to "techies" and the new generation of boaters. In the app, all battery parameters can be monitored as well as all the trip data such as speed, remaining range, remaining state of charge, etc. One battery will last around 3 hours at mid-speed which is more than enough for the intended usage of the Zodiac. For more range and autonomy, additional battery packs can be added. The Cadet 310 Alu reaches 5 knots with 5 people onboard and 75% power from the Manta 2.0. With 2 people, the Zodiac reaches the planning mode and much higher speeds.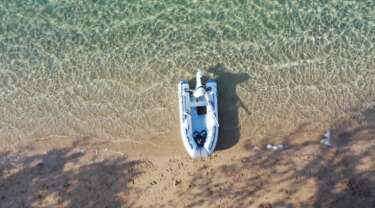 A last thing that is noteworthy: without gearbox, manoeuvring is much easier and seamless with the electric outboard Manta 2.0 than it is with conventional outboards. All it takes is to reverse the handle. "But be careful, an electric motor is much faster to respond than a conventional engine, be gentle with the throttle or sit forward in the Zodiac when you are alone or you will quickly point to the stars!" says Julien after a few admittedly fun vertical take offs.
A new era of limitless eco-sailing is emerging and Azura Marine is proud to enable Zodiac owners to sail their boats emission and noise-free with our Manta Electric Outboards.